Dental Implants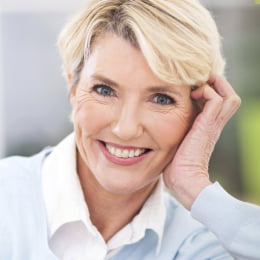 Implants are the best alternative to natural teeth as they provide secure support
Dental implants are an effective, long-lasting way to replace one or more missing teeth, and can offer an alternative to dentures and bridges. They can improve how you eat and speak, prevent shrinkage of the jawbone, and keep existing teeth firmly in place.
Implants are titanium posts that are surgically placed in the jawbone to act just like tooth roots. Titanium is easily accepted by the bone and is the best material for implants not just because it is very strong. These posts eventually fuse with the bone, providing a firm foundation for a crown or bridge.
You need to maintain good oral hygiene following treatment to ensure your implants remain trouble-free. If well looked after, with a regular brushing and flossing routine, they can last for over 15 years.
Different types of implants
Many people are choosing to have implants instead of dentures as they are best alternative to natural teeth. A single implant can support one or more teeth. If you want to have a full arch restored, you can have All-on-4, a revolutionary implant procedure that allows you to have a new set of teeth fixed on a minimal number of implants. They can also be fitted on the same day.
At Pateley Bridge Dental Practice, we use the Nobel Biocare implant system. This system is recognised as one of the leading dental implant systems globally. The system's success is built on over 60 years of experience stemming from the pioneer of dental implants – Per-Ingvar Branemark.